The European Commission is proposing measures to make freight transport more efficient and more sustainable by offering stronger incentives for low-emission lorries, and better information on freight transport greenhouse gas emissions.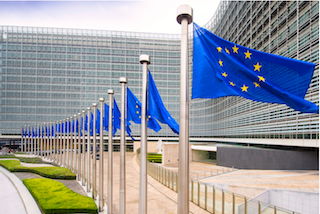 More than 50% of freight is carried by road in the EU (2020 figures), and this transport is a major contributor to greenhouse gas emissions.
The current Weights and Dimensions Directive sets the maximum weight length, width and height for heavy-duty vehicles.
The new proposal revises these rules to allow additional weight for vehicles using zero-emission technologies, as they tend to increase a vehicle's weight.
This will incentivise the take-up of cleaner vehicles and technologies, according to the European Commission.
Once the technology develops and and zero-emission propulsion systems become lighter, thanks also to the use of aerodynamic devices and cabs, cleaner vehicles will benefit from additional loading payload in comparison to conventional lorries.
The uptake of more aerodynamic cabins and other energy-saving devices will also be encouraged, not only improving driver comfort and safety, but also increasing the efficiency of zero-emission powertrains – meaning the mechanism that transmits the power from the engine to move the vehicle.
The proposalEN••• will also provide clarity on the use in cross-border traffic, in certain conditions, of heavier and longer vehicles, which are allowed today in some Member States. This includes clarifying that Member Stated who allow European Modular Systems (EMS) in their territories, will also be able to use them in international operations among these neighboring Member States, without a need for a bilateral agreement and without a restriction of crossing only one border. This will mean the same amount of cargo can be carried in fewer trips.
To encourage intermodal transport, whereby goods are moved using two or more transport modes but with a standardised cargo unit (like a container trailer or other), lorries, trailers and semitrailers will be allowed to carry extra weight. Extra height will also facilitate the transport of high-cube containers by standard vehicles.