The Transport and Mobility Careers Expo, part of of Ireland's first Logistics and Supply Chain Skills Week, takes pace at Athlone ETB Training Centre on Thursday, 30th March, from 10.00am to 3.00pm.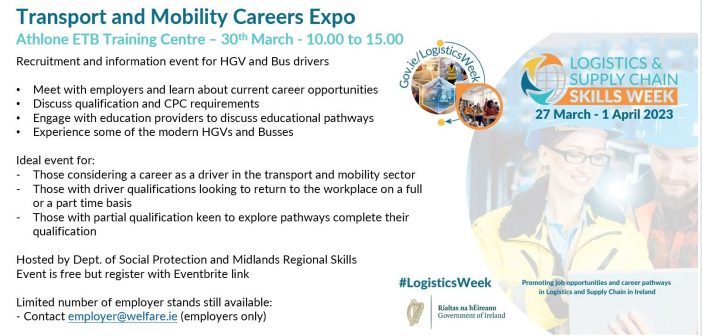 The key aim of the Logistics Week is to promote careers and educational opportunities in the Irish logistics and supply chain sector.
Logistics Week will take place from Monday 27th March to Saturday 1st April.
It will consist of a mix of in-person and online events at both national and regional levels and will be formally launched in Rosslare Europort on 27th March by Jack Chambers, Minister of State at the Department of Transport with special responsibility for International and Road Transport and Logistics.
Logistics Week is an initiative of the Logistics and Supply Chain Skills Group (LSCSG), founded in 2019 to develop and deploy practical actions to address the skills needs of the logistics and supply chain sector. The Group provides a forum for practical action and collaboration aimed at addressing the skills needs of the sector.
Meanwhile, the Transort and Mobility Careers Expo is a recruitment and information event for HGV and Bus drivers to meet with employers and learn about career opporunities.
The event is ideal for those considering a career in the HGV and PSV sectors, or those with driver qualifications looking to return to the workplace on a full or part time base.