Tarstone Road Maintenance is the latest company to sign up for the HGV Greener Programme.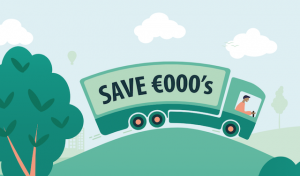 Transport is one of the sectors that has been identified to help Ireland reach its 80% target reduction in CO2 emissions by 2050.
The Greener HGV Programme is bringing real fuel savings by subsidising the use of innovative technology and driver training for Irish Fleet companies.
The Climate Action Fund
By 2050, the Climate Action Fund aims to reduce CO2 emissions by at least 80 per cent compared to 1990 levels, from sectors including Transport.
The fund supports initiatives that contribute to the achievement of Ireland's climate and energy targets in a cost-effective manner.
It offers the potential for innovative interventions like the Greener HGV Programme which the Irish Government has partnered with the South East Energy Agency and Cubo to deliver.
The Greener HGV Programme
Irish Fleet companies can apply to this programme to avail of a 30 per cent technology software and hardware grant. This technology coupled with the development of a professional driving culture of HGVs will result in a reduction of the business' carbon footprint. It will bring target fuel savings of 10 per cent and reduce the annual fuel bill by €000s.
"It has been an absolute pleasure working with Tarstone Road Maintenance Ltd over the last few months whilst implementing the Greener HGV programme. A fantastic company with a fantastic team. It's very encouraging to see fleet companies throughout Ireland engaging in this programme which is backed by the Irish Government and promoted and supported by Cubo and South East Energy Agency. I look forward working with Tarstone over the years ahead and seeing the great results," Douglas Higgisn from Cubo said.