Signify,  a leader in lighting, has equipped Dublin Port Tunnel in Ireland, an iconic infrastructure spanning 9km, with energy-efficient LED lighting for all its 1800 light points in the tunnel.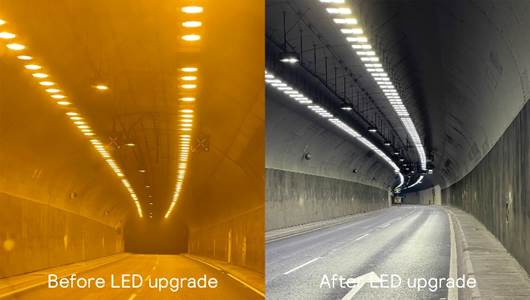 The upgraded lighting has achieved up to 60% reduction in electricity use (based on 2022 rates), or the equivalent of the electricity consumed by up to 300 Irish households1.The upgrade has enabled the tunnel to operate with reduced costs, lower emissions, and a reduced impact on grid congestion.  The project is expected to save upwards of €4 million (£3.3 million) in electricity costs including VAT over the coming five years. The installation includes reusing the existing fittings for all light points. So, the project contributes to a more circular economy, saving an estimated €3 million (£2.6 million) as opposed to opting for a new LED infrastructural installation.
Since the end of 2006, Dublin Port Tunnel has provided a link to the wider motorway network between Dublin Port and the M50, routing heavy goods transport quickly, quietly, and safely away from city and residential areas. Tunnel maintenance operator ERTO was instructed by Transport Infrastructure Ireland (TII) to find a solution that would reduce energy costs and improve the quality of light in the tunnel. Signify's LED retrofit solution was selected for its ease of replacement and impressive cost savings, which are especially significant in the context of the current energy crisis. Also, given that the tunnel is a dedicated route for Heavy Goods Vehicles between the Port, located in the heart of the city and the greater road network via the Coolock Lane Interchange (M50), the LED lighting project also aims to improve visibility in the tunnel. The project is part of the Irish government's energy efficiency plans and was partially funded through the European Green Deal.
Replacing the existing over 17 year installed Philips WRTL SON-T lighting with LED lights from Signify dramatically reduces the energy needed to keep the lights on, as well as providing a clear, high-quality light source that offers drivers and CCTV operators excellent visibility of road conditions.
Installers made use of the existing high-quality housings, which were all retested, and CE marked to current standards and fitted with Philips METIS 2816 LED insert trays. By reusing the existing fittings, the project was achieved with minimal material waste, contributing to a more circular economy. As the new lights were made to perfectly fit the existing fittings, installation could be completed with minimal disruption to road users. Installers worked during late night and early morning hours over five weeks, with each lantern taking just five minutes to strip out and replace. Reusing materials also kept the project's capital expense to a minimum, saving an estimated €3 million (£2.6 million) compared to a new installation.
Patrick O'Hanlon, Senior Engineer at TII, said "We are delighted to have worked with Signify on this project. The replacement of the original SON lamps with LED inserts is a huge step towards reducing the carbon emissions, energy consumption and future maintenance of the Dublin Port Tunnel, while also improving overall lighting and power quality."
Sean Campbell, Key Account Manager – Road Lighting, Signify Ireland, "Dublin Port Tunnel is unique in Ireland and high traffic flows from the port of Dublin.  Working with the customer and assessing the balance of maintenance costing along with energy prices on the rise, our R&D team successfully developed and tested a product that was cost effective and energy efficient.  Collaborating with the customer who trusts Signify to deliver on a circular economy project that reduces energy consumption while increasing the power factor has been a real pleasure.''
Dermot Deely, Managing Director, Signify Ireland, said "With public lighting accounting for 24% of Dublin Council's energy expenditure, energy efficiency projects like this one can make an enormous positive impact. Through a relatively simple upgrade, we've been able to improve light quality, cost, maintenance, and sustainability for Dublin Port Tunnel. We are particularly proud to have supported these environmental goals while giving a second life to many of the materials that were already in place."