Minister Jack Chambers, the Road Safety Authority (RSA) and An Garda Síochána are urging road users to pay particular attention to pedestrians this October Bank Holiday Weekend, as a new analysis of road traffic collision data shows a steep rise in pedestrian fatalities over the past two years.
The analysis from the RSA shows that there were 43 pedestrians killed on Irish roads in 2022. Analysis* of the figures for this year indicate that pedestrian fatality figures for 2023 are estimated to be their highest in 15 years. To date, there have been 38 pedestrian fatalities in 2023. The analysis also shows that the winter months are particularly dangerous for pedestrians.
Mr. Jack Chambers, Minister of State at the Department of Transport, said: "This year to date there has been an alarming increase in fatalities on the roads. Almost half of the fatalities this year have taken place between Friday and Sunday, with the highest numbers occurring on Saturday.
"We are taking legislative action across a range of areas to bring down fatalities and make our roads safer, including changes to penalty points and speed limits as well as increased enforcement. But this bank holiday weekend I am urging drivers to slow down and show particular attention to pedestrians. We are asking everyone to work together in keeping our roads safe and, during the hours of darkness, I encourage people to ensure that they are clearly visible to other road users."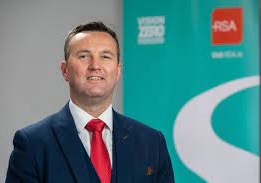 Sam Waide, Chief Executive of the RSA, said: "This year and last year have seen high numbers of pedestrian fatalities. The winter months in 2022 were particularly bad when, between October and December, nearly half of all pedestrian fatalities occurred. We are, therefore, asking all road users to take extreme care over the coming months, which are potentially a period of higher risk, and to share the roads safely with other road users, especially pedestrians."
In 2022, nearly twice as many pedestrians were killed at night than during daylight hours. In terms of location, 58% of pedestrian fatalities took place on urban roads with speed limits of 60 km/h or lower, rather than rural roads with speed limits of 80 km/h or higher last year.
There was also a dramatic increase in fatalities among older people compared with the previous three years, with those aged 66 years or over accounting for 51% of pedestrian fatalities in 2022. This year older people have accounted for 32% of pedestrian deaths.
Assistant Commissioner, Paula Hilman, Roads Policing, An Garda Síochána, said: "The increase in fatalities makes for stark reading; road deaths have a devastating impact on families and communities.  We continue our commitment with our partners to make our roads safer.
"This bank holiday weekend our focus will continue to be on the enforcement of known lifesaver offences; speeding, holding a phone while driving, driving while under the influence of alcohol or drugs and non-wearing of seatbelts.
"I'm appealing to you today to help us keep our roads safe this weekend by driving at appropriate speeds to the road and weather conditions.  I ask Roads Users and Pedestrians to look out for each other on the roads as it gets dark earlier when the clocks go back this weekend."
With longer hours of darkness, the RSA advises all road users to be safe and be seen. Drivers are urged to drive with dipped headlights during the day, especially if they do not have Daytime Running Lights. Pedestrians are urged to be clearly visible when walking during the day and wear high visibility clothing when walking at night. Cyclists should wear high visibility clothing and ensure they have a white light to the front and a red light to the back, so they are visible to pedestrians and drivers.
This October Bank Holiday Weekend drivers are also being reminded that the RSA and participating Applegreen service stations are providing free cups of coffee to motorists to combat driver fatigue. The offer is available from 2pm to 8pm on Friday 27th and on Monday 30th August. Please see more information here on the Applegreen campaign.