O'Neill International Transport is returning fuel savings of almost 10 per cent since signing up for The Greener HGV programme.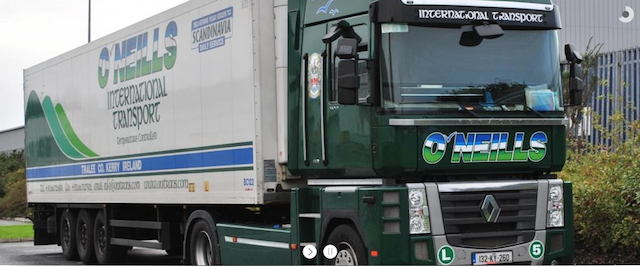 Over the first five months of the programme, O'Neill's International Transport, the Tralee, Co. Kerry based haulier registered a fuel-saving of 9.3 per cent and cut their C02 emissions by 94, 385kgs.
The Greener HGV Programme is run by Northern Ireland based company, Cubo in partnership with the South East Energy Agency and the Irish Government.Transport is one of the sectors that has been identified to help Ireland reach its 80 per cent target reduction in CO2 emissions by 2050.  The Greener HGV Programme brings real fuel savings by subsidising the use of innovative technology and driver training for Irish Fleet companies
Irish Fleet companies can apply to this programme to avail of a 30 per cent technology software and hardware grant. This technology coupled with the development of a professional driving culture of HGVs results in a reduction of the business' carbon footprint and brings target fuel savings of 10 per cent.
About Cubo
Cubo constantly innovates and collaborates with industry leaders and its customers and offers access to data on its web based MyCubo portal, which has a direct impact on customers' day-to-day operations, allowing them to operate in a more sustainable way, and enabling them to make changes that result in wide ranging benefits from increasing driver and road safety, to reducing C02 and NOx levels.
Cubo brings together world leading solutions that protect people, the planet, and its customers' profits.
Cubo's partnership with the Irish government and South East Energy Agency in delivering The Greener HGV Programme allows the company to demonstrate the impact of its technology on the planet, fleet safety and efficiencies.