Stena Line's latest addition to its expanding Irish Sea ferry fleet, Stena Vision, has left the shipyard in Gdansk (Poland) following a major refit investment programme and is bound for Rosslare where it is due to go into service on the Rosslare-Cherbourg route on 30th June.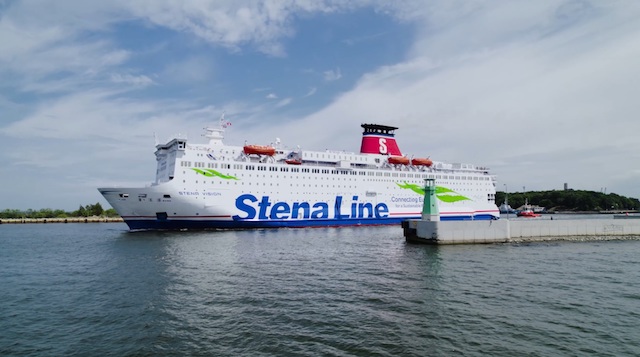 Stena Vision is Stena Line's additional cruise ferry on its Rosslare to Cherbourg service, where it will operate alongside the Stena Horizon.  Stena Vision will increase Stena Line's service frequency on the route to six departure days providing 12 sailings per week, the most frequent ferry service between Ireland and the European Continent.
Paul Grant, Trade Director Stena Line said: "We are delighted to confirm that Stena Vision has now started on its journey to Rosslare.  The ship has undergone a major refit investment and we are in the process of finalising last minute preparations in advance of commencing services on Rosslare-Cherbourg on 30th June, just in time for the peak summer holiday period."
The addition of Stena Vision to the Ireland-France route, will provide Stena Line with a significant increase in capacity operating alongside Stena Horizon. Stena Vision will have space for 1,300 passengers and 485 passenger cabins, more than any other ferry currently sailing from Ireland. It will offer a wide selection of accommodation ranging from standard cabins to deluxe suites. Stena Vision also offers 42 pet friendly cabins.
Paul Grant added: "The introduction of Stena Vision is also welcome news for the freight sector, which has seen demand grow for direct services to France for hauliers since Brexit. Stena Vision will also increase driver accompanied capacity with more cabin space for freight drivers."
Stena Line is the largest ferry operator on the Irish Sea, with the biggest fleet offering the widest choice of routes including, combined passenger and freight services from Belfast to Cairnryan and Liverpool, Dublin to Holyhead, and Rosslare to Fishguard routes, as well as a dedicated freight only route from Belfast to Heysham, a total of up to 238 weekly sailing options between Britain and Ireland.