The all-new Mercedes-Benz second-generation, entry-level van, Citan has arrived in Ireland and is now making its way into dealer showrooms.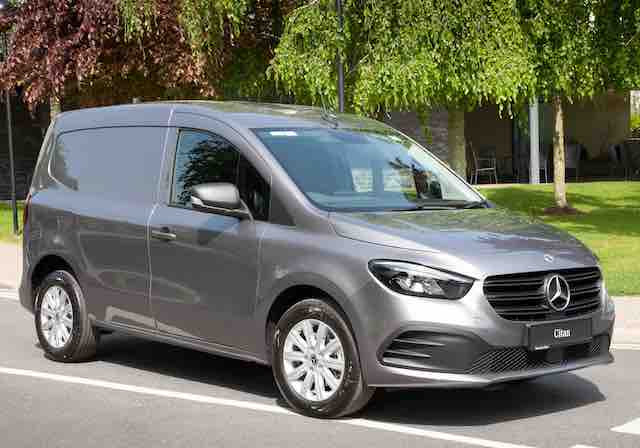 Priced from €23,245 (ex VAT), its arrival marks the entry by Mercedes-Benz in Ireland into what their commercial vehicles sales manager, Fergus Conheady says is the 'highly-competitive' 1-tonne panel van segment.
Buoyed by the popularity of their large-capacity Sprinter and medium-size Vito series, the introduction of the all-new Citan into the line-up of Mercedes-Benz vans will create what Conheady believes will be 'a strong premium product offering at all points in the panel van market'.
"With its compact exterior and 'impressively-spacious' interior, Citan is expected to achieve sales in sizeable numbers supported by a dedicated and ambitious dealer network," Conheady added.
In being chosen joint winner – alongside the Renault Kangoo – of last year's coveted International Van of the Year award, jurors are reported to have been influenced by 'its numerous safety features' and by the inclusion of the MBUX infotainment system – the much-vaunted driver assistance device drawn from the Mercedes-Benz passenger car range. In addition, Citan has received a 5-star rating in Euro NCap safety standards.
Poised to extend Mercedes-Benz's appeal amongst buyers who seek a holistic product proposition, Conheady also sees Citan attracting 'strong interest' from SMEs, urban delivery users, small trades and services markets.
As might be expected, Citan is a Mercedes-Benz through-and-through. Stylish in design, and with an outer appearance that echoes its larger siblings, Sprinter and Vito, with hints of B-Class and other models from the passenger car side, its high-quality appeal is reflected throughout.
Impressive is its level of interior comfort with a completely changed dashboard, car-like steering wheel and seating, and the standard MBUX infotainment system and driver information screen. Door bins can hold 1.5-litre bottles while lidded storage is provided on top of the dashboard and under the centre armrest. Two trim levels are offered – the PRO and PRO +. 
 Initially available in standard wheelbase length, an extra-long wheelbase will follow. The Citan is 4,498 mm long with a gross vehicle weight of 2,235 kgs. Towing capacity is up to 1.5 tonnes and drawbar load is 75 kg. Load capacity in the panel van is up to 2.9 m3 with a load compartment length of 1,806mm, large enough to fit two Euro pallets. The easy-to-access panel van can be equipped with up to two sliding side doors, giving an opening clearance 451mm wide by 1059 mm high. The rear loading sill is 59 cm high and rear doors can be blocked at a 90-degree angle or moved through 180 degrees to the sides of the vehicle.
Power will come from a 4-cylinder, 1.5-litre turbodiesel engine in two power ratings – a 95hp, 110CDI and a 116hp, 112CDI. Both are Euro 6d compliant, feature ECO start/stop function and have WLTP Combined fuel economy figures of 5.6 l/100km. Coupled with six-speed manual transmission, models are also available with seven-speed dual-clutch transmission (DCT).
On the standard wheelbase model, the turning circle is just 11.75m – making it perfect for tight spaces. Standard safety elements include six airbags, 'fatigue-warning' Attention Assist and electronic stability control. Additional optional items – many imported from the Mercedes-Benz passenger car range – are Hill Start Assist, Crosswind Assist and Active Brake Assist. As with all Mercedes vans, a three-year warranty with unlimited mileage applies along with an inclusive service pack.  
Further variants in the Citan pipeline are set to follow with increased wheelbases and the all-electric eCitan due towards the end of 2023.