EU plans to attract young people to truck driving will create jobs and address a predicted shortfall of two million HGV drivers in the EU by 2026 according to local MEP Colm Markey.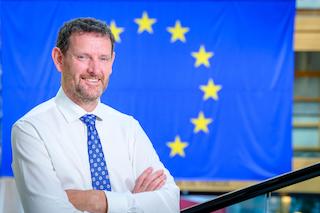 The European Commission is proposing to allow HGV driver training to begin at age 17, while new rules are set to simplify the license process.
MEP Markey – who sits on the EU Parliament's Transport Committee – commented: "With only five per cent of HGV drivers under the age of 25 in the EU, we face a looming crisis that requires immediate action. Logistics and transportation play a critical role in facilitating trade and any disruption in the supply chain can have far-reaching consequences for many different industries. By addressing this challenge head on, the EU aims to bolster the resilience of its transportation sector and ensure the uninterrupted flow of goods and services", he commented.
He continued, "Attracting young people to the truck driving profession aligns with the EU's broader objectives of promoting employment opportunities and fostering economic growth. It presents a chance for the younger generation to be part of an industry that offers stability and exposure to various European cultures. These proposals will also streamline the process of applying, replacing, renewing or exchanging a driving license while common standards on skills, knowledge and fitness of drivers will make our roads safer."
"I think more can be done around the role technology can play in training drivers and improving working conditions more generally. I look forward to discussing these proposals and suggesting improvements when it comes before the Transport Committee in the European Parliament in the autumn", Markey concluded.