Ford today delivered a watershed moment with the introduction of a Level 2 hands-free advanced driver assistance system 1, 2 with regulatory approval for use on the motorway network in Great Britain – the first system of its kind approved in Europe.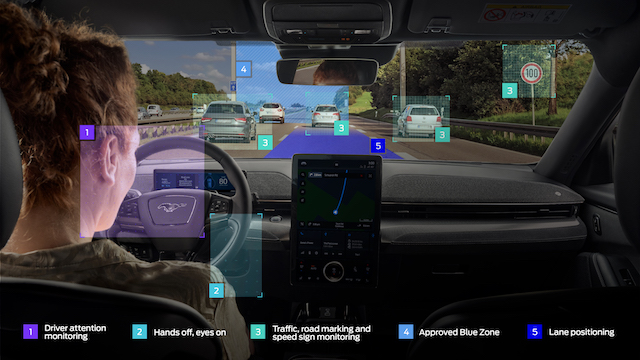 Drivers of 193,000 BlueCruise-equipped Ford and Lincoln vehicles have already driven more than 64 million hands-free miles (102 million kilometres) in Canada and the US, where BlueCruise was also recently named the Consumer Reports Top Rated Active Driving Assistance System.
Now, a green light for Ford BlueCruise 2, 3 technology from the UK's Department for Transport means drivers of enabled Mustang Mach-E models can use "hands-off, eyes-on" driving technology on 2,300 miles (3,700 km) of pre-mapped motorways in England, Scotland and Wales, 4 designated as Blue Zones.
BlueCruise takes the comfort and convenience benefits of advanced driver assistance to the next level. The system monitors road markings, speed signs and evolving traffic conditions to control steering, acceleration, braking and lane positioning, as well as to maintain safe and consistent distances to vehicles ahead – right down to a complete halt in traffic jams.
In addition, sophisticated infrared camera technology continually checks driver attentiveness for safety and confidence.
"It's not every day that you can say you've placed one foot in the future, but Ford BlueCruise becoming the first hands-free driving system of its kind to receive approval for use in a European country is a significant step forward for our industry," said Martin Sander, general manager, Ford Model e, Europe. "Modern highways can be demanding even for the most confident drivers, and intimidating for many. BlueCruise can do some of the 'heavy lifting', to make highway driving less of a chore, and give drivers that little extra confidence and convenience."
Owners of Ford Mustang Mach-E model year 2023 vehicles 5 in Great Britain are the first to be able to activate BlueCruise via subscription. 6 The first 90 days are included with the vehicle purchase and, thereafter, a £17.99 monthly subscription provides the flexibility to cover extended road trips and holidays, and enable the advanced driver assistance system around anticipated vehicle use.