All of the vehicles that supply fuel to aircraft at Dubin Airport will now be powered by more environmentally friendly HVO (Hydrotreated Vegetable Oil) following a full refit of the fuel supply station at the airport's fuel farm.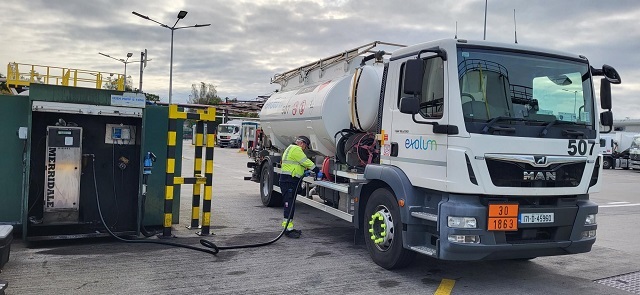 The progressive move is the result of daa's partnership with Exolum. The switch to HVO will mean 300,000 fewer litres of diesel will be used at Dublin Airport by the fleet of trucks that supply fuel to aircraft on the airfield.
Group Head of Sustainability at daa, Andrea Carroll said: "Having this new sustainable fuel supply station in place is a major step towards a carbon emissions-free Dublin Airport. The switch to HVO from diesel has the potential to remove around 1,000 tonnes of CO2 emissions per year, bringing Dublin Airport one step closer to its goal of net zero emissions by 2050>"
HVO is a low-carbon biofuel made from plant waste, oils and fats making it a more sustainable option with up to 90% less emissions than diesel. HVO is a great low-carbon solution for the aircraft refuelling vehicles as electric alternatives are not readily available.
Diego Abajo, Dublin Airport Manager of Exolum said, "We cannot achieve a sustainable future without working together. Both companies have sustainability goals, and this project was a great example of collaboration that has been mutually beneficial not only to Exolum and daa, but also to the airlines and the into-plane service companies who operate at Dublin Airport who will also benefit from this positive change."
Dublin Airport is Ireland's busiest airport and offers a wide range of flights to more than 190 destinations operated by 44 different airlines. Exolum has been a trusted supplier for the airport and manages the storage terminal and provides logistics services for the receipt, storage and dispatch of Jet A-1 fuel under a concession arrangement with daa.
Activate to view larger image,