ZF`s trailer electrification technology helps to make driving more efficient for all heavy trucks – no matter which type of powertrain they use.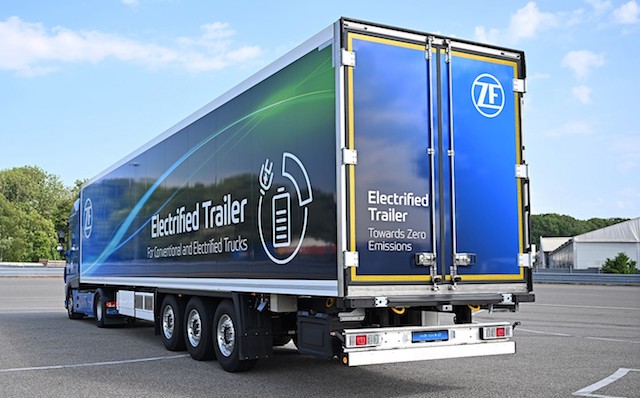 Diesel trucks can be transformed into hybrid vehicles; electric trucks (whether battery- or fuel cell-powered) can be given an additional drive. This unique solution can be made possible by integrating ZF´s AxTrax 2 electric axle plus a battery system box with battery modules and battery management in the trailer.
This allows braking energy to be recuperated, and the recovered power can support traction and ease the workload of the primary engine in the truck. This alone can reduce fuel consumption and emissions of a diesel truck by up to 16 percent.
Through an optional plug-in version, these savings could even rise up to 40 percent. Trucks that already have a purely electric drive (BEV or Fuel Cell) can use the additional electric drive on the trailer as a zero-emissions range extender.
With its trailer electrification solution ZF provides a key technology for trailer builders and fleets to meet upcoming local decarbonization legislations.