Irish company, Cameramatics, a leading global provider in driver safety made three big announcements at the Commercial Vehicle Show in Birmingham this week.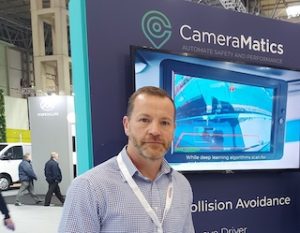 MySafeDrive is a first-of-its-kind app complete with a fleet management dashboard which enables companies to track and report their ESG transport emissions, monitor driver behaviour and improve safety through employees' smartphones, with no need for additional hardware.
Based on eco-safe driving principles – a combination of safe, defensive and anticipatory driving – the ground-breaking app from CameraMatics combines advanced data science and AI with vehicle manufacturer standards to calculate corporate greenhouse gas (GHG) emissions and provide drivers with the most effective actions they can currently take to care for our planet and communities.
CameraMatics' smart AI technology enables the auto-capture, recording and notifications of drivingincidents, triggered by events such as driver distraction and fatigue, and aggressive driving habitsincluding hard braking, acceleration and cornering. From today, all drivers using CameraMatics can receive access to the iCOACH driver safety coaching programme.
The introduction of iCOACH helps to further differentiate CameraMatics' solutions from the rest of the market, as the first end-to-end coaching solution that not only monitors driving and provides notifications of any incidents during journeys, but also uses AI to interpret data and provide specific coaching that can help drivers to complete journeys as efficiently and safely as possible.
I-DAS ia an Intelligent Driver Assistance System – a revolutionary AI powered collision avoidance system to help fleet managers build towards zero road accidents
i-DAS features strategically placed blind spot detection and driver monitoring cameras, combined with in-cab display and speakers, to give drivers real-time warnings of hazards and collision risks. The system's external AI cameras feature adjustable detection zones of up to 30 meters, providing perfectcoverage of risk zones.
i-DAS uses deep learning algorithms to make sense of the data, continually scanning for pedestrians, hidden road users and cyclists. It's also capable of filtering out road furniture, ensuring that drivers areonly alerted of genuine risks.