Mercedes-Benz customers for more than 50 years, Caffrey International continues to look towards the three-pointed star for the answer to all their transport needs – this time with an Actros truck and – at the other end of the scale – two of the recently-introduced 1-tonne Citan panel vans for run-around tasks and small deliveries that the giant Actros was not designed to handle.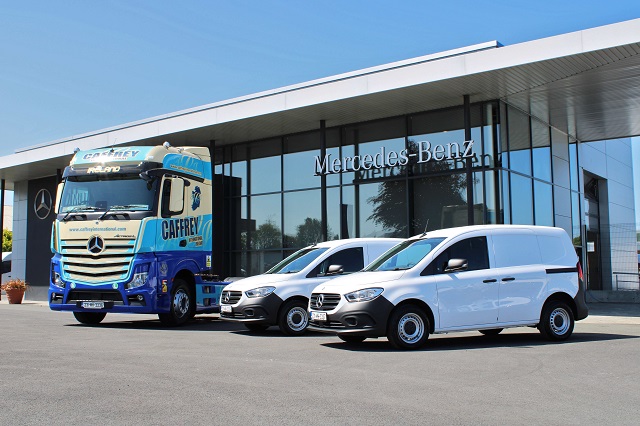 For their long-distance transport, the Meath-based company is completing the modernisation of their heavy-duty fleet, taking delivery of their latest Actros, part of a 50-unit order being delivered between this year and Q1 2024.
Factory painted in Caffrey International's eye-catching and familiar blue and cream livery, all of the Actros units purchased by them are from the Actros 'L' product offering – the biggest and most luxurious model in the Actros series, said by the German manufacturer to 'redefine the Mercedes-Benz premium class of trucks'.
Chief amongst the driver comfort features on each Actros 1845LS 2.5 Bigspace unit is its flat floor, reduced cab noise levels, multimedia cockpit with new seat covers and mattress toppers. Safety is enhanced through features such as Side Guard Assist and Active Brake Assist 5.
The two new-to-Ireland Mercedes-Benz Citan panel vans come loaded with an array of safety and driver assistance elements, many drawn from other models in their passenger car range. These include Mercedes-Benz's own MBUX infotainment system as featured in their top-of-the range S-Class. Powered by a 4-cylinder, 1.5-litre turbodiesel engine, Citan has a 2.9 cubic metres load area – large enough for two Euro pallets.
Employing over 300 staff, Caffrey International is an expanding enterprise and one of Ireland's leading transport groups. Serving more than 500 customers across Europe with bases in Ashbourne and Gdynia, Poland, the Company operates a modern fleet of over 180 trucks, providing specialist logistics services including pharmaceuticals, air-freight, temperature controlled freight, FMCG and hazardous cargo (ADR).
For some five decades, the company has been a loyal supporter of Mercedes-Benz taking delivery of their first truck in March 1972. Praising the brand, managing director, Brian Caffrey says: 'Mercedes-Benz has played a key role in our business, helping us to grow and provide a reliable and quality service to our customers.'